Cathy Jones' Sunflower Studio & Aspen Gallery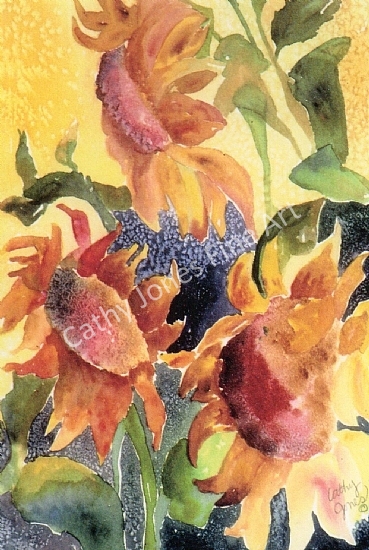 "Three Sunflowers"
My paintings are inspired by the Impressionist painters of France and the Southwestern painters of the United States. As a result, you will find that my choice of aspen and floral landscapes as subject matter in my watercolor paintings are somewhat impressionistic with a southwestern flair and are prompted by my living in the Foothills of Evergreen, Colorado. I am surrounded by the beauty of the Rocky Mountains and especially the aspen trees and wildflowers that grow in my yard. When painting these "scapes", I move easily between quarter, half and full size sheets of 300 pound watercolor paper. I pay close attention to space and color since I am a "colorist". I try to bring the viewer into my aspen and floral "scapes" so that they feel they are standing, sitting or hiking among the aspen trees and wildflowers. I continue to explore the medium of watercolor and it constantly reveals itself to me in different ways and inspires me to be more creative.
Cathy Jones
"Art is when you hear a knocking from your soul-and you answer" Terri Gaillemets
"The arts, quite simply, nourish the soul. They sustain, comfort, inspire. There is nothing like that exquisite moment when you first discover the beauty of connecting with others in celebration of larger ideals and


shared wisdom." ~ Gordon Gee



All artwork and material on this site is copyrighted by the artist. No image, either in whole or in part, may be used without the express written permission of the artist.